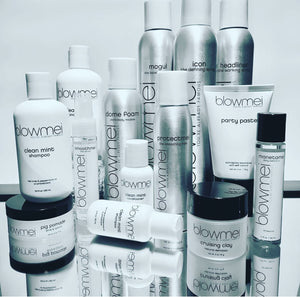 Help Us Welcome blowmei To The Bedroom Box Family!

#gayowned #gayoperated #thegayadultstore 
With great hair comes greater responsibility
The Made in USA mark is a country of origin label indicating the product is "all or virtually all" made in the United States. The label is regulated by the Federal Trade Commission.
The Leaping Bunny Logo is the only internationally recognized symbol guaranteeing consumers that no new animal tests were used in the development of any product displaying it. The Logo can be seen on packaging, advertising, and websites for cosmetics and household products around the world.
Parabens are a form of preservative that is widely used in the cosmetic and personal care industry. Products like soaps, conditioners, moisturizers, shampoo and deodorant frequently contain parabens. Chemically speaking, parabens is an ester—a compound molecule formed from a combination of acid and alcohol. Paraben occurs in products in various forms of esters, such as methylparaben, propylparaben, and butylparaben.
BPA is a chemical with estrogenic activity (EA), meaning it mimics the estrogen hormone. Chemicals with estrogenic activity "have been reported to have potential adverse health effects in mammals, including humans, especially in fetal and infant states," says Dr. George Bittner, a professor of neurobiology at the University of Texas at Austin who has served on many National Institutes of Health panels. Some bad effects of any EA chemical, including BPA, are early menarche, reduced sperm counts, altered functions of reproductive organs, obesity and increased rates of cancer, Dr. Bittner explains.
Gluten is a group of naturally occurring sticky proteins found in wheat, rye, barley, and triticale (a crossbreed of wheat and rye), and food products containing these grains as ingredients. Gluten acts like glue holding foods together, giving them elasticity, and allowing them to maintain their shapes. However, while many people tolerate gluten well, others need to steer clear of it for health reasons.
"Vegan" means the product doesn't contain ingredients of animal origin, including milk, eggs, honey, and gelatin. Of course, meat, poultry and fish are not vegan either.
There are varying levels of veganism though, and you'll sometimes see a product labeled as vegan, with a clarifying statement right below that might say "contains honey", or something similar. That is acceptable in many eyes, since it is transparent to consumers and not misleading.
---